We were out shopping today, and after finishing purchases that could only be made in specific stores, we had a choice for the clothing. Should we go for everyday things at the Central Bus Station or Shabbat clothing at the Azrieli mall?
Well, I wanted a beauty shot of my sock in progress, so I made everyone go with me to the boardwalk, from where it would be most logical to continue to Azrieli.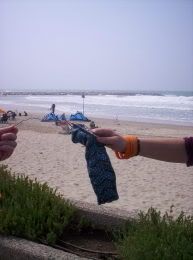 That picture may have saved my family's life; if I hadn't realized I didn't have an Israeli sock picture and really want a beach shot, we would have been crossing the old Central Bus Station area when the bomber was committing his murders.