(And I'm not talking
Yair Lapid
, either)
The week before Fall Travel Season is always busy, especially if The Spouse has gone on ahead and I'm left with all the last minute details. This year I'm lucky; the Oldest Teen is home, waiting for basic training to start, and he's out running errands for me. (Picking up my travel insurance, taking in the Youngest Teen's cellphone for repair--again, etc.) Every traveller should have a teen with time on his hands to help out.
The Spouse left with two suitcases which were together within a kilo of his total buggage allowance. What have I got?
One suitcase is packed inside the other, because I always have more coming back than going--yarn, goodies for the kids, stuff The Spouse doesn't need again until he comes home. That's three weeks worth of clothing, a coat, and, of course, knitting projects.
I admit I'm cheating here, since I have a Knitpick order waiting in New York, so all I've brought is cotton for the November Dishcloth KAL, yarn for kneesocks, and the Knitpicks stuff I have in stash which matches what's waiting for me. With any luck I'll come home with a dishcloth, a Skully sweater for the Youngest Teen, and a pair of knee socks in progress. In my hand luggage I'll take the current sock WIPs.
Now to see how much of the current WIPs can be finished before Wednesday night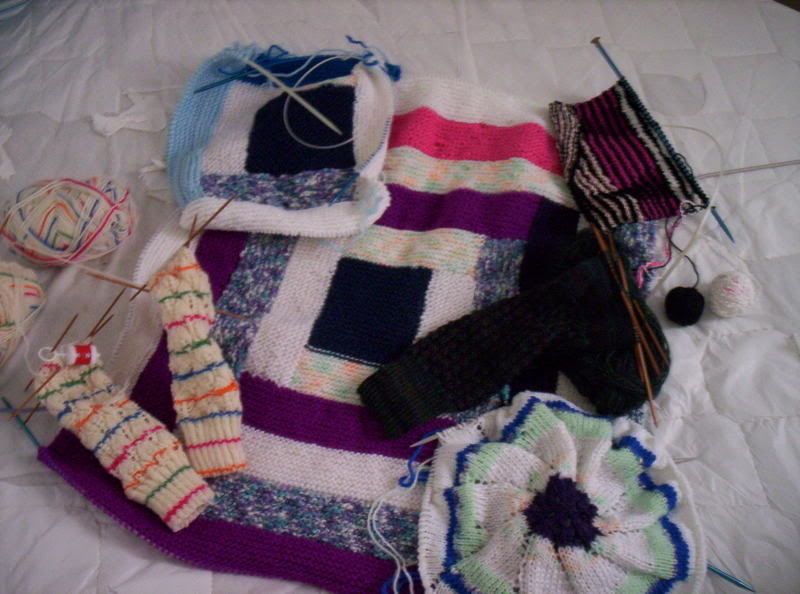 Two Mason*Dixon logcabin blanets, a pinwheel blanket, a dishcloth, socks for The Spouse, and socks for me. The priority is The Spouse's socks, since our 20th secular anniversary is Nov. 2. (Today's the Jewish annoversary, but since he's in Boston and I'm in Israel, not a whole lot of celebrating giong on.) The plan is to spend our honeymoon in--ready?--Niagara Falls. Honestly--we're finsihed in Toronto on November 1 and don't have to be in NYC until November 3, and the Falls are right on our way home. I told American neighbors our plan, and they weren't quite sure how to react. Is it ridiculously corny, or so corny it's cool?